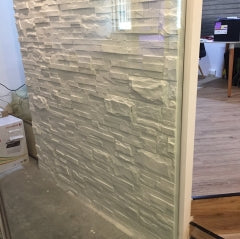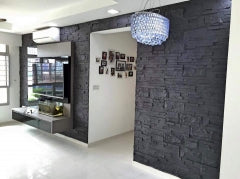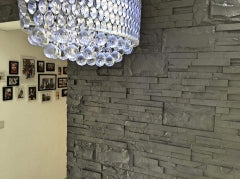 Faux Brick Wall Panels for Dinning Hall Bed Decor
/count/ sold in last /time/ hours.
Panel Specification

Dimension: L=116cm=45.6"   W=70cm=27.5"  T=3cm=1.18"
Weight: 4kg/Pcs, 3 Pcs Package Weight=13.5kg.       8.8Lb/Pcs, Package Weight 30 Lb
Package: 2 or 3 Pcs in a Carton
Cover Area: 2 pcs cover 1.7 m2 =18.3 sq ft 3 Pcs cover 2.4 m2  =26 sq ft
Color: Matt White. Customizable Available or paint it by DIY
Paint: Water Base Paint. Such as Nippon, SKK
Panel Material: Fiberglass + Stone Powder + Polymer Resin
Style: Rustic
Cut: Toothless Saw or Hand Line Saw
Installation: Dry Installation with Anchor Bolot or Screw (Wood), Without Water Cement Required. Easy Installation and Quick. Do It Yourself Possible.
Warranty: Exterior 15 Years.

Delivery terms: USPS or FEEDX service
Please contact with us before order as follows:  
    1. More than 2 packages wanted.
    2. Addtional  more zones.
Delivery Service do not include these areas:
Alaska, Hawaii,  Puerto Rico, Virgin  Islands, Guam, Marshall Islands etc.

Advantage of the GRACEWall Panel Production: 
PERFECT | perfect visual appearance 
CONVENIENT | no maintenance or cleaning needed 
SOLID | as stratified material 
UNAFFECTED | low contraction and minimum expansion 
ADAPTABLE | easy to fix on any surface 
USEFUL | easy and quick installation planning permission not required 
LIGHWEIGHT | weight between 5/6kg/m2 
THIN | average thickness of 1 cm 
MULTIFUNCTIONAL | used as cement shuttering 
PROTECTIVE | waterproof and insulating 
CONTRAST CONCRETE CULTURAL STONE |Lightweight, thin, solid and Adaptable and versatile for all applications 
FREESTANDING | structures not needed 
NATURAL |Natural crushed stone surface 
DURABLE | no affected by the erosion of elements nor by ultraviolet rays 
WIDE USEFUL |Internal/external, waterproof and insulating durable.
Allow later painting to change color.
Vestibulum curae torquent diam diam commodo parturient penatibus nunc dui adipiscing convallis bulum parturient suspendisse parturient a.Parturient in parturient scelerisque nibh lectus quam a natoque adipiscing a vestibulum hendrerit et pharetra fames nunc natoque dui.
Adipiscing Convallis Bulum
Vestibulum penatibus nunc dui adipiscing convallis bulum parturient suspendisse.
Abitur parturient praesent lectus quam a natoque adipiscing a vestibulum hendre.
Diam parturient dictumst parturient scelerisque nibh lectus.
Scelerisque adipiscing bibendum sem vestibulum et in a a a purus lectus faucibus lobortis tincidunt purus lectus nisl class eros.Condimentum a et ullamcorper dictumst mus et tristique elementum nam inceptos hac parturient scelerisque vestibulum amet elit ut volutpat.