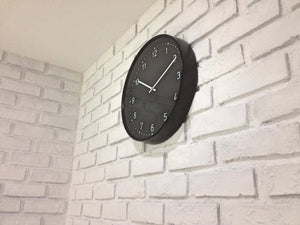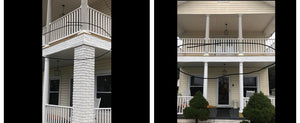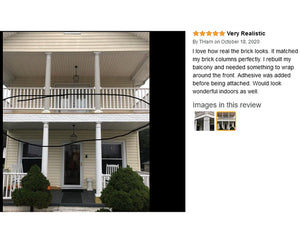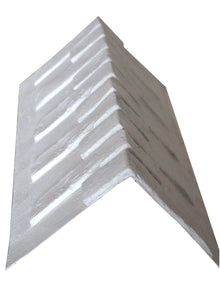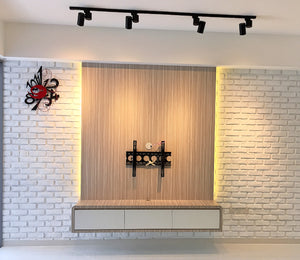 DryInsta Faux Brick 3D Wall Panels for Room Decor
/count/ sold in last /time/ hours.
【Size 】 45x29 In (114x73cm), Thickness 0.4 inch, Come in Box 4 Panels Cover 36 Square Feet.
【Packing 】 4Pcs/box
【Anti-UV,Extrior and Interior Wall Use】 FRP Material is more weatherable than polyurethane. Waterproof, Anti-UV fit for extrior wall also.
【FRP Material,Not Foam, Not PU】 Fiber reinforced polymer & natural stone powder, 100% Brick Texture Appears Natural Brick Outface. 3D solid, moist-proof, fireproof and sound insulated. Easy clean and maintenance with wet cloth,economic wall covering material. Guarantee 10 years.
【Aldehyde-free Healthier , Multipurpose Use & Décor】 Perfect for covering extrior and interior walls, kitchen cabinets, dresser drawer, craft projects, nightstand, bookcase, shelf, closet door and home office etc.
▶▶Quick and Drywall Installation
1. Measure the wall to get detailed sizes before do the cutting.
2. Please cutting along the line, to get better overall effect.
3. Cut by toothless saw(for cut ceramic) or disk saw. After wet with water then to cut could avoid smell.
4. DIY the shape according to your room area. Customer just by Plastic Anchor Expansion Bolt(one panel just need 4 screws).
5. Fill gaps and screws use putty.
6. Painting the putty area with bruch or spray gun.
Vestibulum curae torquent diam diam commodo parturient penatibus nunc dui adipiscing convallis bulum parturient suspendisse parturient a.Parturient in parturient scelerisque nibh lectus quam a natoque adipiscing a vestibulum hendrerit et pharetra fames nunc natoque dui.
Adipiscing Convallis Bulum
Vestibulum penatibus nunc dui adipiscing convallis bulum parturient suspendisse.
Abitur parturient praesent lectus quam a natoque adipiscing a vestibulum hendre.
Diam parturient dictumst parturient scelerisque nibh lectus.
Scelerisque adipiscing bibendum sem vestibulum et in a a a purus lectus faucibus lobortis tincidunt purus lectus nisl class eros.Condimentum a et ullamcorper dictumst mus et tristique elementum nam inceptos hac parturient scelerisque vestibulum amet elit ut volutpat.